History of the Yitzhak Rabin Center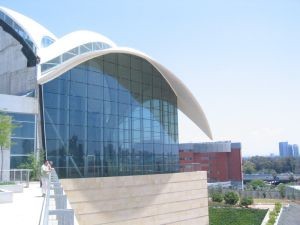 Yitzhak Rabin Center which is in Tel Aviv weaves the history of Israel through a life story of one of the most devoted sons. It is a memorial which is dedicated to the monumental man.
The Center Set Up
Yitzhak Rabin was born in 1922 and he grew up in the state of Israel. The museum is a clear indication that both the state and Rabin had their good times and downs and the moments of glory and their fair share of the problems. This is where one of the newest museums in in Israel was founded and brought together history and modern technology. It does so by integrating the sensor-activated audio guides.
The center has three sections which include the inner corridor, the outer corridor and audio guide. In the outer corridor, you will be able to access the story of Yitzhak Rabin's life. You will be able to know who he was, the major positions he held and the problems he faced, and the common decisions he made. The pathways to the inner corridor appear to be leading you through the amazing story of Israel at that same time in time.
The Outer Corridor Highlights
The outer corridor explains the important news snippets from around the world. When you are there, the audio guide's sensors will activate the music, news broadcast and speeches that compliment the entire visual exhibit. Unlike other museums, where the audio guide may be extra enhancement at the best and afterthought the worst, the presence of the audio guide at Yitzhak Rabin Center is an important part of how these compelling stories are brought to life. The outcome of this is rich content that gives full understanding of where Yitzhak Rabin spent most of his time, and the key major events that took place in Israel and the entire globe. When you are through with the visit, you will be able to enjoy the view of Tel Aviv from the balcony.
The museum may not be large but you will spend at least three hours exploring the place. You will spend most of your time reading about the events that took place a long time ago in the world, listen to contemporary music, and see the documentary footage of everything ranging from idyllic early kibbutzim to the dark scenes of war.
Tags: Museum
Leave a Reply