The Jerusalem Botanical Gardens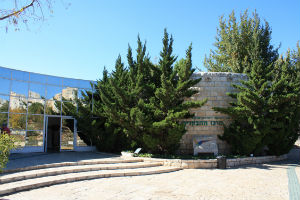 Nestled on 30 acres of scenic land, the Jerusalem Botanical Gardens is a majestic wonder of Israel. Located in the Nayot neighborhood, the gardens boasts the widest variety of plant life in Israel with over 10,000 unique species and invites thousands of visitors each year to its lush environment. A must-see when visiting Jerusalem, the botanical gardens is home to history, greenery, and a renewed appreciation for plant life.
The History of Jerusalem Botanical Gardens
Originally conceptualized in 1926, the Jerusalem Botanical Gardens began on Mount Scopus and hosted the first Biblical Zoo. Less than two decades after planting commenced in 1931, the Jerusalem Botanical Gardens was restricted from the public following the Israeli War of Independence. Much like its homeland, the Jerusalem Botanical Gardens' establishment faced trials and tribulations, until it was eventually transferred to a new location in the early 1960s. Twenty years later, the gardens outgrew its location, forcing a move to its current location. Today, the gardens serve as a hub of horticultural education and research.
Visiting the Jerusalem Botanical Gardens
While taking in everything the Jerusalem Botanical Gardens has to offer may require more than one trip, make the most of your visit to the gardens with proper planning. Consider adding the following exhibits and activities to your itinerary:
The Flower Train. Relax and enjoy the colorful scenery on this 30-minute train ride through the gardens' meandering flower beds, the perfect activity for families and groups.
The African Savannah Grass Maze. Step onto safari-like terrain and learn about the many plant species indigenous to Africa in the gardens' African Savannah Grass Maze.
The Bible Path. Have you ever wondered about the significance of Biblical plant life, and its place in history? Tour the Jerusalem Botanical Gardens' Bible Path to discover herbs, flowers, and trees mentioned in the Bible.
Herb and Medicinal Plant Tasting Tour. Awaken your senses and embark upon a journey of discovery in the Herb and Medicinal Plant section of the gardens. Learn about the significance of plants in Biblical medicine and take home a bit of history by creating your own herb-filled sachet.
No Time To Visit, No Worries
Don't have time to take everything in? The Jerusalem Botanical Gardens now hosts an online course entitled "Flora of the Holy Land," which provides virtual education about the area's many plant species and their historical significance in the Bible. The next time you're brainstorming a new and interesting way to explore the world, add the Jerusalem Botanical Gardens to your list of majestic destinations.
Tags: Botanical Gardens
Leave a Reply