Everything You Need to Know About the Palmach Museum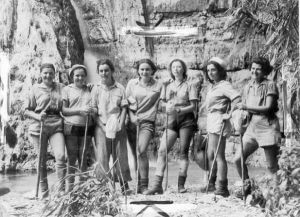 The Palmach Museum opened in 2000, after a decade long process of design and construction. The Palmach in Tel Aviv, Israel is an innovative personal experience museum dedicated to The Palmach strike force of the Haganah. This pre-state underground defense organization started during World War II to defend Israel against possible invasion by German forces. The Palmach became part of the Israel Defense Forces after 1948. Even though it existed for only seven years, the value systems it put in play have become an integral part of history and the Israeli people.
A Tribute To The Fallen
In tribute to the fallen, this museum recreates this period in time for the visitor and not only visually recreates the experience, but also places visitors in a realistic reenactment of the battles. The tour begins with a touching display in memory of those who fought so valiantly on behalf of the Israeli people. The main exhibit however, takes place underground.
Next, the tour leads to a scaled version of Tel Aviv's Herzl Street in 1941, with a projector portraying vivid images of the war in Europe. It is here that the formation of the Palmach is recreated to fend off the German army and attacks by the Arabs on the Jews.
In the next chamber, a eucalyptus grove at night sets the scene introducing visitors to a seven member unit of the Palmach undergoing training. The rest of the tour follows these seven as they fight for the protection and unification of Israel. The tour begins and ends in the same place, the remembrance hall, for the 1162 fallen members of the Palmach.
An Impactful Tour
The impact of this tour is far greater than any other museum in and around the Israeli city of Tel Aviv. The realistic nature, sets, sounds, and action (including moving rooms), of the tour include the visitor and make them a part of this amazing experience. A part of the museum has yet to be developed, but will include a 450-seat auditorium, a library, more exhibits, and more will be added as funding permits.
When visiting this museum, tours need to be arranged prior to visiting and a tour consists of 25 people.
No one under the age of six is allowed to take the tour.
The tour is 90 minutes in length.
The tour is presented in Hebrew. English speakers will be provided with a translation through headphones.
Entrance fee: 25 NIS for adults. 15 NIS for school children and pensioners (payment is by cash or check only, no credit or debit cards).
Tags: Museum
Leave a Reply