Rise of Electronic Music in Tel Aviv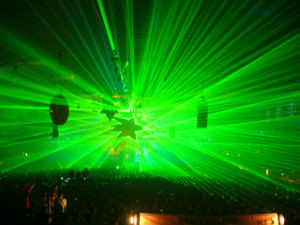 Electronic music has taken Tel Aviv by storm. For three whole days, Israel's biggest electronic music event to ever be hosted is coming to the capital city, starting January 14th and ending on the 17th. Full of music from the ever popular music genre which bases its entire sound on electronic synthesis, the event, called Tel Aviv Volume, will involve twenty of the city's finest night clubs and will feature 100 of the biggest names in the world of DJing.
Tel Aviv Nightlife & Nightclubs
Tel Aviv is ripe with amazing night life and the fun runs 24/7, 365 days a year and counting. Well known around the world for their love and use of electronic music to sop up their daily troubles, Tel Avivians will be the first to admit that if it were not for the life of the night time, they would not know how to handle the reality that is within Israel's invisible walls, cutting its inhabitants from the adventure and discovery of the world that surrounds them.
With underground night clubs such as The Breakfast Club and Milk Bar and The Cat and Dog, Israel's second largest city really makes it hard for any sleep to be had, and for good reason. No sensible night-life lover will want to sleep with all the loud electronic music grinding out from the many speakers of the many other underground nightclubs that are within walking distance from each other. Check out the full list of electronic nightclubs here.
Play That Funky Music
Electronic music is also known as psychedelic trance and is extremely popular in not only Tel Aviv, but in all of Israel. This genre of music has produced international stardom for more than one Israeli DJ and music producers. Among these talented musical geniuses are Alien Project and Offer Nissim. Ari Linker calls Tel Aviv home and has been the music producer behind Alien Project since 1994. Offer Nissim is a world renown and appreciated electronic music DJ, mixer and producer of incredibly unique and eclectic music pieces. Madonna has been known to use Offer Nissim and his musical talents for the success of her concerts in the past.
With Tel Aviv's concentration of bustling party-goers and the many venues to satisfy the crowds that gather every night, the psychedelic trance electronic music is continuously beat out and into the ears of the more than welcoming receivers. Tel Aviv, Israel has always been a hub of musical talent and genre varieties and, no doubt, electronic music will be there for the long run.
Tags: Music
Leave a Reply