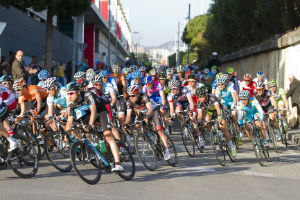 Sovev Tel Aviv, which is translated "Around Tel Aviv," is the biggest bicycling event in Israel. Held during the month of October, participants of every skill level enjoy taking part in this annual event. Three beautiful tracks are available: one along the streets of Tel Aviv, one along the Ayalon highway, and one along the beach. Cyclists have a choice between four different tracks, depending on their level of experience. Experienced cyclists that are 16 and older can follow a 42km route that circles the city twice. Families that have children over the age of 8 can do a 22km course. Children under the age of 12 require accompaniment by an adult. There is a 7.5k route available to all participants, regardless of age or skill level. A 25km course is available to skaters and rollerbladers.
Event Details
Sovev Tel Aviv is a three day event that will take place on Hol Ha'moed, Sukkot. This event was founded in 2009 in response to a growing trend in bicycling. At this time, Israel joined the European Cyclists Federation. The goal of this organization is to promote cycling as a healthy, efficient, and environmentally responsible way of recreation and transportation. They bear the responsibility of bringing awareness to and lobbying for the benefits of cycling. In addition to this, the European Cyclists Federation encourages the recognition of the needs of cyclists as it pertains to the city's infrastructure. This organization researches issues that relate to the benefits of cycling, both for the cyclist and the environment, as well as the health and safety concerns associated with cycling.
Sovev Tel Aviv has attracted more participants and spectators with every year. The 2014 race is expected to draw approximately 30,000 participants and 100,000 spectators. A festival will precede the bicycle race event, and will take place during October 3-5 in Kikar Ha'Medina.
Tags: Sovev
Leave a Reply