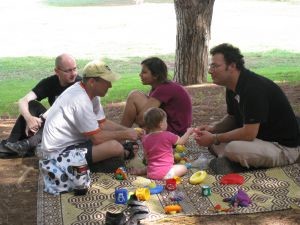 When in Tel Aviv be sure to get some 'green space'. Park Ha 'Yarkon should be the best place for you to visit. This park is found in Tel Aviv, and it is well known for its green lawns, bicycle trails, little-flowing river and wide range of family activities. It is one of Tel Aviv's green sanctuaries in the midst of the busy big city. It attracts families, joggers, youngsters, and any other person who feels that breathing fresh air is important to him or her. Visiting this park will not leave you bored and idle because there are quite a number of activities you can indulge in. The following are some of the activities  associated with this park:
Park Ha'Yarkon Tour Of Activities
Sports and games- In the north of park ha'yarkon you can find children, adults and even teenagers engaging in different sports ranging from football, basketball to more sophisticated ones like tennis. Other facilities used to play special games like skating are available as ramps are readily installed in this park.
Boat riding is also another activity closely associated with park ha'yarkon. You can rent a boat cheaply and enjoy the breeze with your lover or family and come out of it at the end of the day feeling as if it was the best day of your life.
If you are looking for something tantalizing for the kids, then on the eastern side of this park is found the Zapari. Good news to every active kid, there are also several playgrounds for children throughout the park hence visiting as a whole family will accommodate everybody, and this is one of those places you can visit with the whole family and still get a chance to be alone with your spouse and enjoy your quality time comfortably as kids get busy with the number of activities available in the park.
Enjoy A Green Day
Finally, when the weather permits and it's neither too hot nor too cold, you can enjoy what is called a green day in this park. A green day is when many families sit on the green grass sharing great moments together hence the name green day. This happens when the temperatures are conducive to be with family and friends on the green grass. Visiting this park is an experience in and of its own and you should not miss going there when you are in Tel Aviv.
Tags: Parks
Leave a Reply